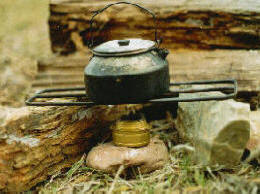 Perhaps not something that everybody likes to hear, but I, for one, found myself nodding along with many of the points in Don Tryon's Leave-A-Trace editorial page.
He makes the point for a common-sense approach to camping, and takes issue with the extremes that some enthusiasts have gone through to erase our existence on the land. I agree with much of the spirit of leave-no-trace in preserving the land for future enjoyment, but, like Don, I find some practitioners take it too far.
We've all hit a stage in our outdoor pursuits where we stop and look at our garage/livingroom/basement/diningroom table the night before an outing, and shake our heads, thinking, "how in the name of all that's holy did I end up with so much stuff?" A lot of that stuff is stopping us from learning and broadening our experience with the very woods we visit.
Being a good outdoorsman is about balance. To chop down vegetation and cut swaths through the wilderness we love is often inappropriate, but so is ignoring the tools at hand. I can't imagine never learning how to properly manage a fire, or cook over coals, or properly string a line from a tree — skills one would never learn if an extreme LNT doctrine is adopted.
Too much LNT means not enough living and interacting with our surroundings. I don't want to be in a bubble, and I think it's silly to try. Just ask the mosquitos if they care that you're from outside of their bubble. Perhaps the best way to look at it is to think of yourself as a wild animal. They take from nature, but not so much that they'll starve next season. They leave a trace when they know they need to communicate, but not when or where they value their privacy.
I'm not talking about the luxuries — I sometimes bring a little 2-shot espresso maker so I can see the sun come up with a smile. But I've seen gadgets that you can use to wind rope around, to avoid tying a knot.
This makes me want to look at my gear and try to think of the things I can replace with experience — knowledge weighs a lot less, and is harder to misplace.
At the end of the day, like so many things, leave-no-trace comes down to respect, and is best tempered with common sense.
—
Don is the maker of Purcell Trench Grills, which, while I have not personally tried them, strike just the right amount of chords with my approach, just not with my pocketbook or storage space at the moment.
Perhaps I'll do a review one day, if someone would be so kind as to send me a sample (hmm? A man can dream, can't he?)